The Imperial Ice Stars have earned an unrivalled reputation for pushing the boundaries in the genre of ice dance with their skill and athleticism on the ice, their creative and powerful story-telling, their sumptuous sets, spectacular special effects and opulent costumes.
The Official Website: http://www.imperialicestars.com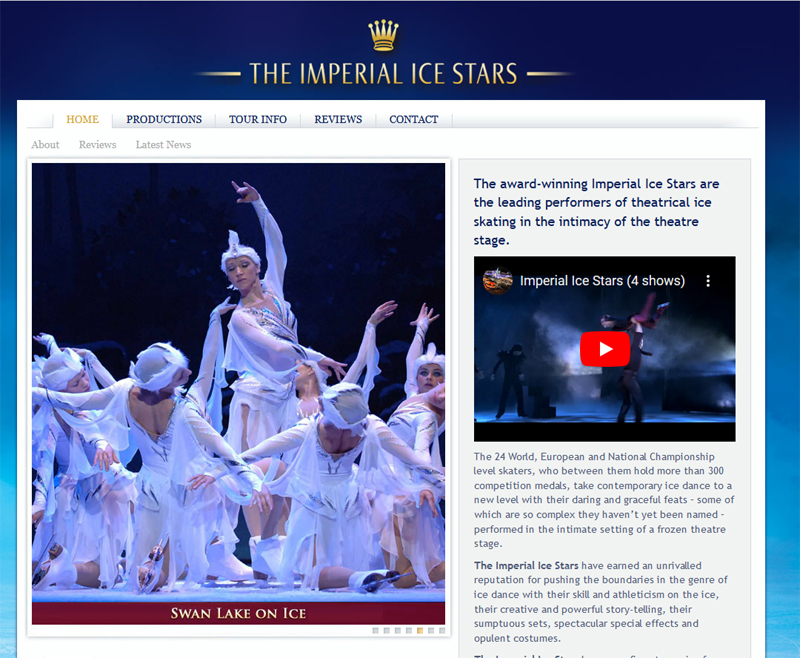 Imperial Ice Stars
The White House
Kinmel Bay
Denbighshire
LL18 5ER
tonymercer@imperial-ice.com
Tel:+44 7967 659964
Reviews taken from the Official Website:
CHARLES Perrault would have been astounded, but not displeased, by liberties taken with his rags-to-riches fairytale in this sophisticated and stylish production.
The basic narrative of true love conquering all, and virtue rewarded after oppressive tribulations, is overlaid with the theme of Time, omnipresent and subtly inimical to human happiness. Time is given concrete form by 12 darkly-costumed skaters and one sinister soloist – the thirteenth hour – who execute dances of manic energy in evocative penumbra with the wheels and cogs of dysfunctional clocks whirring around them.
This adds a fresh new dimension to the hoary tale without detracting from the magic of its fantasy, and the magisterial proficiency of the artists entrusted with its delivery keeps spectators in a state of continuous, pleasurable excitement for two hours; there is a marvel a minute as one breath-taking innovation succeeds another.
Gone are the traditional periwigs, petticoats and panniers of the late 17th century. For a production on ice, the more practical but no less elegant costuming of a later date (early 20th century) is adopted to happy effect. Details of the story are also modified to promote credibility: Cinderella is bullied by her stepmother and ill-favoured sisters, but she is no domestic drudge; she is a ballerina in training, supported by her father, and befriended by a Gypsy Fortune-teller who fills the role of Fairy Godmother. Instead of a prince we have the eligible hunk of the town, the Lord Mayor's son, as the hero of this modern fairy story.
It comes as no surprise that Cinderella's father is a watchmaker obsessed with time. The assorted clocks of the town malfunction alarmingly, their hands taking on a life of their own with a quirky grace that resembles the limbs of the dancing skaters. This artful updating is a major strength of Cinderella on Ice, but it takes second place when it comes to the stellar performance of the Imperial Ice Stars, who combine impeccable timing and technique with engaging warmthof interpretation: Olga Sharutenko (no stranger to Cape Town audiences), as Cinderella, is particularly expressive, and her partner, Bogdan Berezenko, has all the suave panache requisite for his role. The duo's skating, fearless and exquisite, is irreproachable. Sergei Lisev, cast as the watchmaker, equals Sharutenko's dramatic abilities while raising the bar to superhuman heights in his execution, especially in pas de deux and pas de trois; his exceptional height makes his presence noticeable whenever he comes on stage. Maria Mukhortova (stepmother) is vicious, chic, and magnificent on skates.
Just when it seems there is no feat on ice that can be surpassed, some of the skaters are airborne to terrifying heights to perform close to the Gods before descending to further gymnastics below. Staging is ingenious, with remarkable visual effects such as the luminous carriage that takes Cinders to the ball, and the austere beauty of the dance-hall in monochromatic Art Deco style, with costumes to match. Music by Duncan and Barnwell replaces that of Prokofiev to suit choreography on ice, particularly pleasing in the ballroom scene.
Romance, glamour, and drama delivered at life-threatening speed make this a treat not to be missed.
– Beverley Brommert, Cape Argus
★★★★★
02
Jul
15
– http://www.stuff.co.nz – ANN HUNT
Wake up Wellington! This is a Sleeping Beauty for the 21st century and you'd be mad to miss it. The imperial Ice Stars production under the direction/choreography of Tony Mercer gives us a modern take on the traditional fairytale. Gone are the fairies and the spindles, no one falls asleep for a 100 years, Carabosse is no old crone and the royal wedding is exactly that, not a Royal Variety Show. And while there will always be audiences for the traditional version of this story, it is totally refreshing to see such a different take on it and one that actually makes sense and works.
At the infant Princess Aurora's christening, instead of six fairies presenting her with gifts, here there are her six sisters, the strongest and most protective being Princess Lilac.
There is far greater emphasis given here to the Witch Carabosse. The scenes in the forest where Carabosse (Yahor Maistrou) and his minions dabble in dark magic are truly creepy, and the use of excellently effortless aerial work and spectacular fire use aids this brilliantly. Maistrou's charismatic, handsome Witch is the lynchpin of the production.
In a nice feminist touch the five sisters, led by Princess Lilac and the loyal Catalabutte, race to find Carabosse and seize the antidote to the poison administered by him to their sister Aurora. They have only 24 hours to succeed in their mission.
Aided by Prince Desire, they battle it out and good triumphs in an exciting dual between the Prince and the Witch.
As Aurora, Olga Sharutenko is wonderful. We see her develop from innocent young girl to the joyous and loving Princess in the superb wedding pas de deux with her prince, splendidly danced by virtuosic Egor Chudin.
Alina Saprykina is a lovely Princess Lilac. Gentle yet strong. In roles that are often simply 'wallpaper' ones, Volodymyr Khodakivskyy's King and Fiona Kirk's Queen are outstanding. As is Alexandr Kazakov's nerdy, loveable Catalabutte.
The five sisters and the corps de ballet, all soloists in their own right, display brilliant ensemble work.
Family-friendly, two hours, 10 minutes. Forget the rugby, there are still seats here.